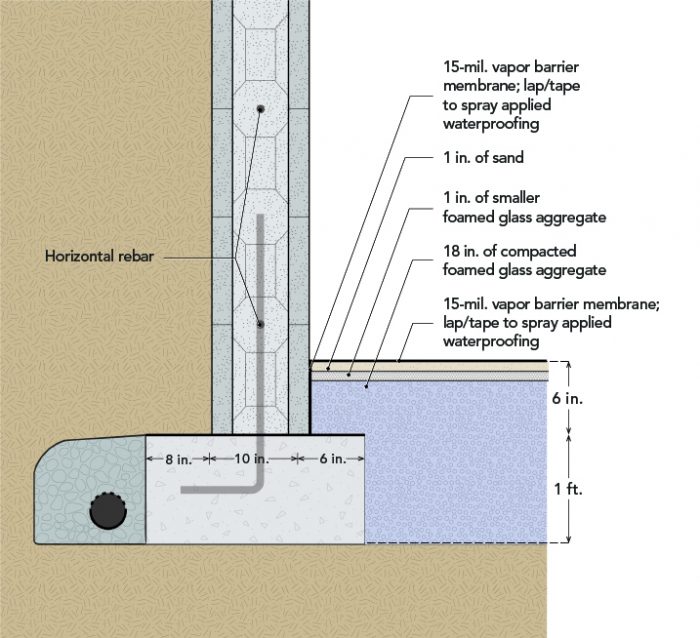 Foamed glass aggregate is gaining traction among high performance–home builders. It is touted for its ability to perform multiple functions and is used in residential applications for insulating slabs and as backfill. Ben Bogie, project manager for the build GBA is following, is partial to AeroAggregate but Glavel is another reputable supplier. Made from 100% recycled container glass, the product is ultra-lightweight, non-leaching, rot-resistant, durable, and low in upfront carbon emissions. It is easy to compact, has a respectable insulating value (12 in. of the material ranges from R-11.5 to R-15.7), and is highly permeable. Costs run between $70 and $80 per cu. yd. (AeroAggregate supplies 2.7-cu.-yd. bags.) Ben says the cost pencils out to close to even with foam board.
Installing foamed glass aggregate
On this project, the crew started the foamed glass installation at the bottom of the footing. The as-built detail above reflects a lowered elevation for the foamed glass—a response to the decision to create more headroom in the crawlspace, which will measure 4-ft. 6-in. in height and house the mechanicals.
The material goes down in 6-in. lifts, and each lift is compacted. There is a compaction factor based on the application and R-value objective. In this case, it was 1.37, which means if you put down 1.37 in. of product, the ideal compaction is to an inch. Here, they laid down 7 to 8 in., then compacted down to about 6 in., adding subsequent lifts.
Before the foundation walls go in, the compacted aggregate sits flush with the top of the footing, providing a flat surface for the crew to set the foundation walls. Once the walls are in place, they add another 6 in. of foamed glass for a total of 18 in. For the top inch, they use 3/4-in.-minus AeroAggregate, compacted and top-dressed with sand. (Because there is no concrete slab nor a plywood cover, the final surface needs to be as smooth as possible to receive a vapor barrier, which is the only material going over the aggregate.)
For installation, two or three bags are lifted with a forked loader and moved to where the excavator is sitting. The operator swings them into position, one at a time. The bottom of the bag is cut open and the operator works to evenly distribute the material throughout the foundation. Then it is hand-graded and machine-compacted.
A multi-functional product
Asked why Ben is sold on foamed glass (he has used it on a few projects), he says, "It's a waste-stream product with a low EUI, and with it we can accomplish multiple things in one process. Normally, we'd have to do the foundation prep, excavation, and footings, followed by 6 in. of washed stone, which comes at an additional cost. That is replaced with the foamed glass aggregate. This way, we have our drainage, moisture, and insulation completely handled by one product."
______________________________________________________________________
Kiley Jacques is senior editor at Green Building Advisor. Illustration by Patrick Welsh. Photos by Brian McAward.
Weekly Newsletter
Get building science and energy efficiency advice, plus special offers, in your inbox.