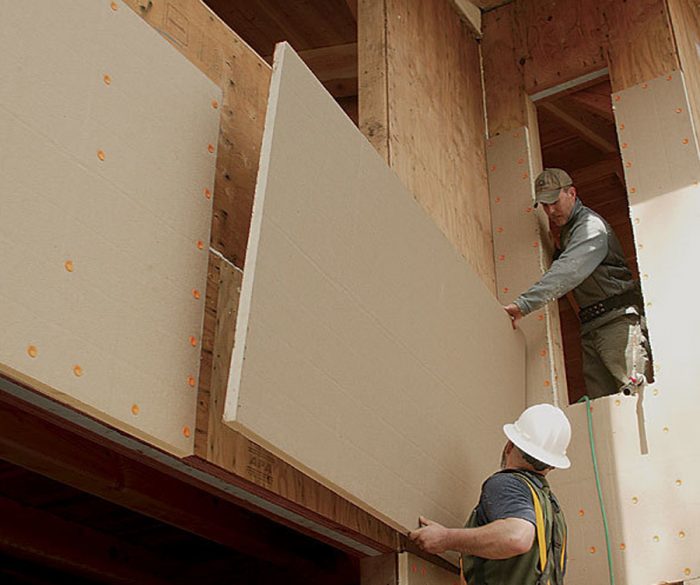 When I built my house about forty years ago, I installed a continuous layer of expanded polystyrene (EPS) on the exterior of the wall sheathing. Back in the 1980s, many builders questioned the wisdom of this type of rigid foam installation, expressing the opinion that the foam would trap moisture in the wall.
Even 40 years ago, however, building scientists knew that a continuous layer of exterior rigid foam helped protect the wall sheathing, as long as the foam was thick enough. Exterior rigid foam keeps wall sheathing warm during the winter, and warm sheathing stays dry.
In the decades following my decision to use exterior rigid foam, researchers have accumulated more and more evidence that exterior rigid foam works. That's why I was recently surprised to read a dire prediction about foam-sheathed walls from GBA blogger Ben Bogie.
Ben Bogie is a skilled builder who works in Connecticut. He's the type of builder who pays attention to building science and Passive House construction techniques, and he's a frequent contributor to GBA's BS + Beer Show. Here's how Bogie answered a question from GBA editor Kiley Jacques in a recent interview published on GBA:
Kiley Jacques: Are there products and/or aspects of assemblies you want to see retired for good?
Ben Bogie: Yes, exterior foam insulation and PVC plastics. My concern with rigid foam—aside from the global warming potential—is the fact that, inevitably, over the life of a building, there is going to be a water intrusion event. If you put a vapor-impermeable layer over the outside of a building, it can only dry to the interior, where there is the lowest drying potential. With exterior rigid foam, we are setting the building up for the possibility that it can't dry out, which means it could…
Weekly Newsletter
Get building science and energy efficiency advice, plus special offers, in your inbox.
This article is only available to GBA Prime Members
Sign up for a free trial and get instant access to this article as well as GBA's complete library of premium articles and construction details.
Start Free Trial
Already a member? Log in