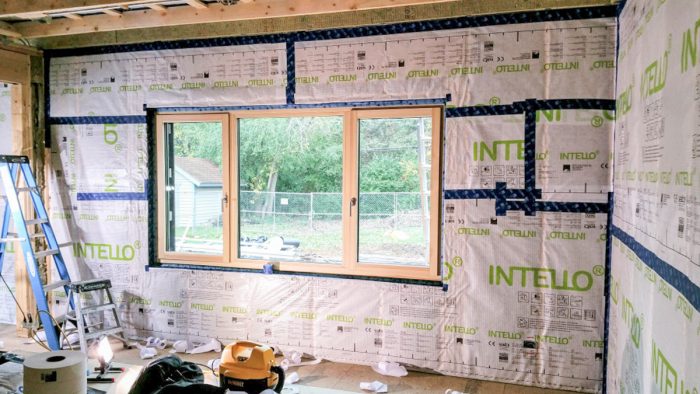 Editor's note: This post is one of a series by Eric Whetzel about the design and construction of his house in Palatine, Illinois, a suburb of Chicago. A list of Eric's previous posts appears below. For more details and more photos, see Eric's blog, Kimchi & Kraut.
Once Wojtek and Mark had installed continuous insulation on the exterior side of our ZIP sheathing (4 inches of Rockwool Comfortboard 80), I was able to move inside and begin installing Rockwool Batts (R-23) in our 2×6 wall framing.
After reading up on the available options for insulation, we decided to invest in Rockwool insulation, both the rigid Comfortboard 80 on the exterior of our sheathing and the Rockwool batts for inside our stud bays. Although it was more expensive than other options, particularly the Comfortboard 80, we felt it was worth the added cost.
In particular, by helping our wall assembly to be vapor-permeable (or vapor open), we felt the Rockwool could help mitigate any mistakes, should they be made, in the wall assembly. This being our first build acting as general contractors, we wanted to add some margin for error wherever we could find it.
For environmental reasons, one of our goals was to be as foam free as possible. There's an increasing awareness about the carbon footprint of our structures, not to mention the total carbon footprint of our daily lives. At any rate, if I had it to do over, I would at least seriously consider using reclaimed rigid foam for the continuous insulation over the sheathing (both for the potential cost savings and its status as a reclaimed material otherwise headed for a landfill), understanding that it does reduce drying potential  to the exterior. As others have noted, using reclaimed rigid foam in this way may be the best, or "greenest," use of foam insulation until the construction industry hopefully moves beyond its use altogether as better options become more viable (e.g. wood fiber insulation).
Here are some resources for reclaimed rigid foam:
https://www.reuseaction.com/sales/foam/
https://www.greeninsulationgroup.com/
https://www.repurposedmaterialsinc.com/polyiso-insulation/
I would also consider using dense-pack cellulose in the 2×6 walls instead of the Rockwool batts if I could find an installer I was reasonably certain could do the work properly. During construction it felt safer to use my own labor to install the Rockwool batts, thus avoiding the possibility of any gaps in the wall insulation. I was hoping to offset the cost of the batts with my free labor, plus I just enjoyed doing the work. Had we gone with the dense-pack cellulose, it would've been something I couldn't do on my own (no equipment or training).
I tried to stick with products my subcontractors used every day. But because my electrician wasn't familiar with airtight junction boxes, I opted instead to come in after he had everything installed and apply the putty pads. I found installing them to be straightforward and pretty quick.
The putty pads are attached to release paper. Once the paper was removed the pads were easy to mold around each outlet and light switch box. Putty Pads are available at Amazon.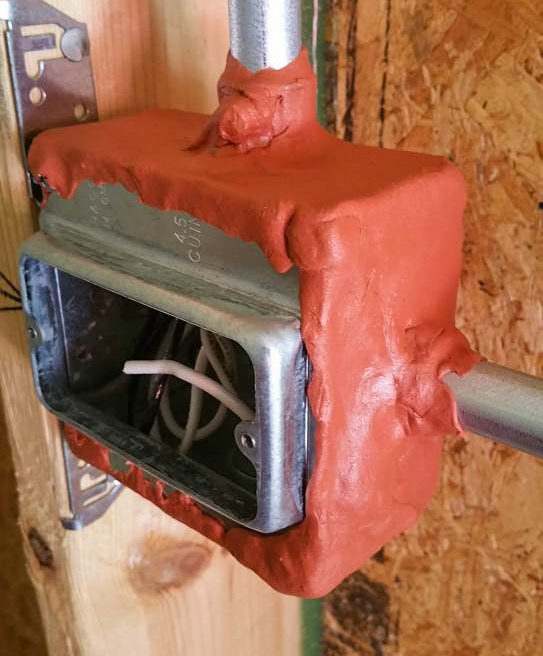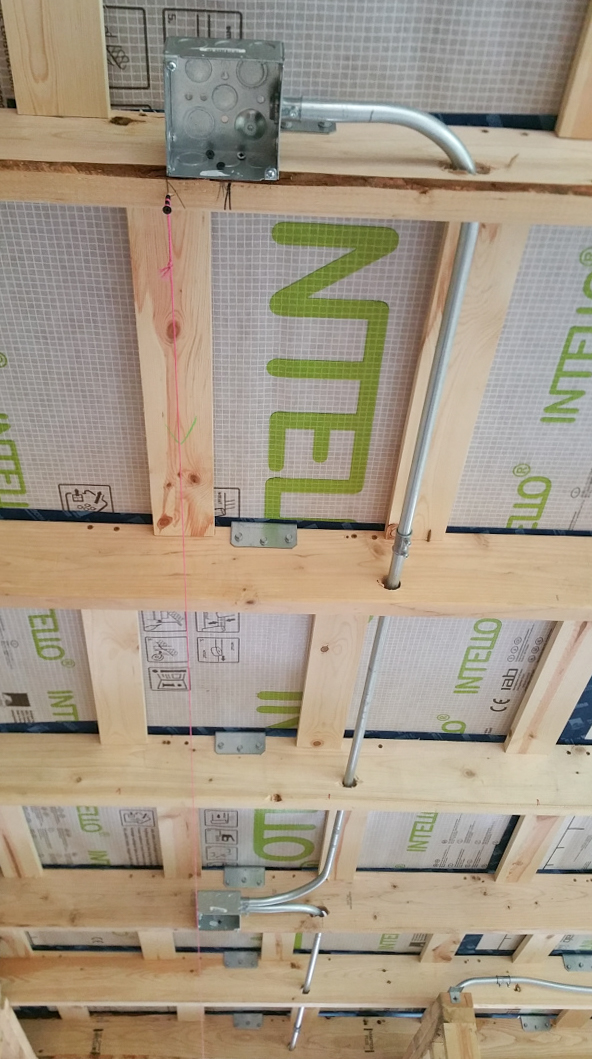 With 4 inches of Rockwool Comfortboard 80 on the exterior of our sheathing, the code would have allowed us to use nothing more than  latex paint as our interior vapor retarder (Class III).
Again, to improve our margin for error, I felt like it was worth the added expense and time to install a smart vapor retarder (CertainTeed's Membrain product would've been an alternative for Intello) to avoid potential issues with diffusion in the winter.
When I asked a question on GBA about this issue, the consensus seemed to be that the Intello, although technically unnecessary, was a nice bit of insurance.
It also added a final layer to all of the previous air sealing details. With redundant layers of air sealing, even if small areas experience failure over time, there are still other areas to back it up, thus maintaining our overall air tightness for the long term.
If I had it to do over, I would use less framing around windows and doors, along with using pocket headers instead of the more traditional insulated headers we ended up with. Pushing the header to the exterior sheathing would mean being able to insulate the pocket on the interior side with Rockwool or dense-pack cellulose, rather than the rigid foam we ended up with (unfortunately, XPS in our case).
Another change I would make would be at points where interior walls meet exterior walls. Rather than using ladder blocking to make the connection, which is still better than more traditional methods (creating a boxed in void that's virtually impossible to insulate), I would use a metal plate at the top of the walls to make a solid connection. In addition to making drywall installation easier since it would create space between the two intersecting walls for sheets of drywall to be passed through, it would also make installing insulation, especially batt insulation, much more straightforward with clear and easy access (no horizontal blocking to get in the way).
In the Matt Risinger video below, architect Steve Baczek delves into some of the key components he uses to optimize advanced framing techniques.
In addition to the pocket headers, the idea of using header hangers instead of additional jack studs, seems to make a lot of sense.
And here's a ProTradeCraft video regarding their own take on Advanced Framing:
One final change to our framing would be opting for two-stud corners instead of the California 3-stud corners that we have. Although it represents a relatively small change, I think a two-stud corner is cleaner and allows for slightly more insulation in this vulnerable area.
Clearly, each designer, architect, GC, or framing crew will have their own particular views on advanced framing, so there's room to make individual choices without undermining the goal of balancing structural integrity with reduced energy demand. Local codes, along with the opinion of your rough framing inspector, also will have to be accounted for. My guess is these techniques will continue to evolve, especially if specific products come to market to aid the process (i.e. reduce the amount of framing lumber required while ideally also lowering labor costs, all without negatively affecting the overall strength of the structure).
Sound attenuation
We designed our home with a smaller than average footprint, incorporating many Not So Big House principles. The main floor is roughly 1500 square feet, with another 1500 square feet in the full basement below. One way to make the floor plan feel larger than it actually is was to provide some sound attenuation in key areas (we incorporated several other techniques to expand the feel of the floor plan that will be discussed in upcoming posts regarding interior design).
For instance, we installed Rockwool in a long partition wall that runs east-west down the center of the house. This wall helps define the barrier between public areas (kitchen and family room) on the south side of the home and the private areas (bathrooms and bedrooms) on the north side.
We could've used Rockwool Safe 'n' Sound, but at the time it was a special order item in my area, whereas the batts were already in stock.
In the photo below, the Rockwool in the main east-west partition wall is covering the refrigerant and drain line for one of our three Mitsubishi heat pump heads, along with the usual electrical conduit for outlets and light switches.
It's also nice to watch TV in the family room and know that as long as the volume is at a reasonable level you're not disturbing anyone trying to sleep or read in the two bedrooms. This kind of sound attenuation also adds a level of privacy to the bathrooms while they're in use.
And, again, it's not that no sound is transmitted from one room to another, rather it's almost entirely limited to doorways, thus significantly reducing the overall impact of the noise that is transmitted.
As a result, I would definitely use Rockwool for sound absorption again. In fact, I can't imagine going without this kind of sound attenuation now that we've been able to enjoy it in our new home.
Arguably, addressing this issue of unwanted sound transmission is even more important in Passive Houses or high-performance homes that are already much quieter than conventional homes because of the extensive air sealing and well above code levels of insulation. In our own case, outside noises either disappear entirely or are significantly muffled — this includes a commuter train a couple of blocks away.
Drywall
We went with USG 5/8″ EcoSmart drywall (for more, see this GBA article on EcoSmart). We chose the 5/8-inch over 1/2-inch mainly for added durability and some slight sound deadening between rooms.
I had read about CertainTeed's AirRenew drywall, but it sounded like the only VOC it absorbed was formaldehyde, which, if I understand the issue correctly, can be safely avoided with the use of appropriate cabinets and furniture. If memory serves, AirRenew works by utilizing a compound similar to triclosan, meaning a biocide, which some believe can have potentially serious health effects. It's not clear to me, even now, whether the use of AirRenew drywall makes sense, or exactly what compound (or series of compounds) are utilized to absorb the formaldehyde. CertainTeed has remained silent on this point, claiming the information is proprietary. Nevertheless, it has a Declare label, so the International Living Future Institiute must believe it's reasonably safe to have on painted ceilings and walls.
At any rate, we wouldn't be bringing in any new furniture that would have elevated levels of VOCs (including flame retardants) once construction was complete. Moreover, by being mindful of every finish we used and product we brought into the house, we're hoping to maintain a high level of indoor air quality.
The International Living Future Institute's Red List and database of Declare products were a big help to us, even though we're not pursuing any kind of certification. The Greenguard certified label was also helpful, in particular when it came time to choose tile and grout.
By consciously choosing every product and material that comes into the home, it's possible to at least reduce our exposure to harmful VOCs and chemicals. While still imperfect (Who can you trust?), these kinds of programs do allow designers and homeowners to take some control over the environments they're creating and living in.
Frankly, in a rational system, one that was truly looking out for the best interests of consumers, this kind of research — time consuming and frustrating busy work to put a finer point on it — would be considered laughable if not horrifying. In a rational system it would be safe to assume that any product for sale, apart from some careful instructions on their use and disposal, would be safe to have inside your home. Nevertheless, if unintended health consequences are to be avoided during a renovation or new construction, consumers have little choice but to do the necessary homework (or pay someone else to do it for them) and be as thoughtful as possible with their selection of materials.
Weekly Newsletter
Get building science and energy efficiency advice, plus special offers, in your inbox.